Slovakia last week became the first country to donate a sophisticated Russian-made S-300 anti-aircraft system to Ukraine, as leaders in Kyiv stress the need for more and better anti-aircraft weapons to blunt Russia's punishing aerial bombardment.
But the Slovakian system alone is not enough to replenish Ukraine's mauled anti-aircraft network. As Kyiv prepares to face Russian President Vladimir Putin's renewed offensive in the eastern Donbas region, Ukrainian leaders are still stressing the need to defend their airspace and the importance of Western support in doing this.
Slovakia's Defense Ministry confirmed to Newsweek that it had sent one S-300 system to Ukraine. The transfer was facilitated by Germany and the Netherlands that sent Slovakia US-made Patriot anti-aircraft systems to free up the S-300, which Slovakia inherited after the dissolution of Czechoslovakia in 1993.
"We believe this system will help save as many innocent Ukrainians as possible from further aggression by Putin's regime," the Slovak Defense Ministry said in a statement released last week.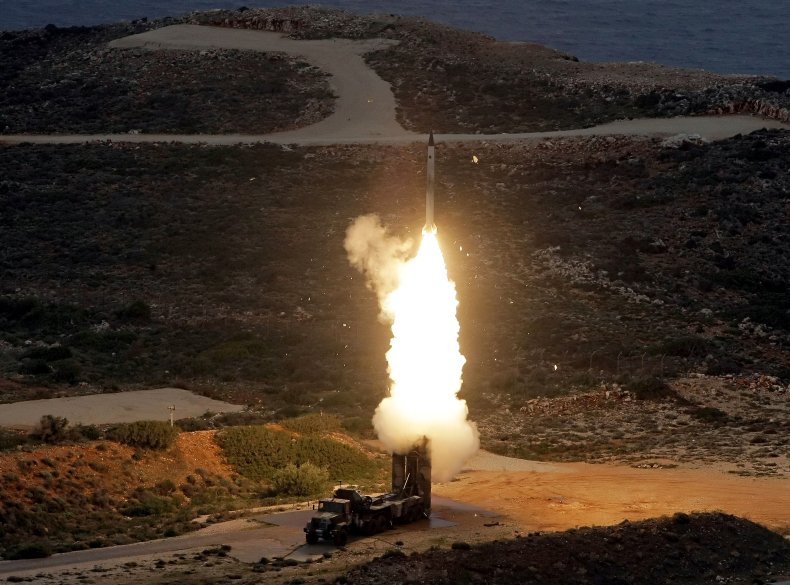 Ukraine is believed to have had around 100 S-300 batteries before the invasion began, totaling some 300 launchers. Open source figures suggest it has lost at least 21 of the launchers — the equivalent of seven batteries. Newsweek has contacted Ukraine's Defense Ministry to request comment.
This apparently steady, if slow, erosion of Ukraine's anti-aircraft inventory is of great concern to leaders in Kyiv. The longer the fighting continues, the more launchers will be destroyed. Ukraine will also eventually run low on missiles.
Russia has already claimed to have destroyed the Slovakian S-300 in a missile strike in Dnipro. Slovakian Prime Minister Eduard Heger's office dismissed the claim as "disinformation."
Since the invasion began, Ukrainian officials have called on Western countries to enforce a no-fly zone over Ukraine, a request repeatedly rebuffed by NATO for fear of direct confrontation with Russian forces.
NATO nations also bungled a planned delivery of Russian-made fighter jets to Ukraine, prompting frustration in Kyiv. Providing long-range anti-aircraft systems would go some way to reducing the Russian threat with less danger of escalation.
Ukrainian Foreign Minister Dmytro Kuleba traveled to Brussels to meet with NATO foreign ministers on Thursday. Among his armament requests were "heavy air defense systems" such as the S-300.
Greece and Bulgaria also possess S-300s that could theoretically be sent to Ukraine. But doing so would degrade these nations' own military readiness. Neither Athens nor Sofia have yet shown any willingness to transfer their S-300s to Ukraine.
The failure to eliminate Ukraine's anti-aircraft systems was a glaring one by Russia's armed forces. Ukraine's air force, long- and medium-range anti-aircraft systems and portable shoulder-launched surface-to-air weapons have all eaten away at the Russian air force. Ukraine claims to have downed 154 aircraft and 137 helicopters since the invasion began on February 24.
Ukraine has received around 25,000 portable anti-aircraft weapons since the start of the invasion, Army General Mark Milley, chairman of the Joint Chiefs of Staff, said on Thursday. The Ukrainians, he said, are "extraordinarily thankful" for this support.
But these shoulder-fired weapons cannot reach targets at high-altitude, like the S-300 and other similar systems can. They also cannot intercept Russian ballistic missiles, which have wrought so much damage on Ukrainian military and civilian targets as well as infrastructure.
The better Ukraine's long-range anti-aircraft umbrella, the lower Russian aircraft will be forced to fly. This makes them more vulnerable to portable weapons carried by Ukrainian ground forces.
Russian aircraft still enjoy greater freedom in the air than their Ukrainian opponents. Last week, Russian planes were flying around 250 sorties a day, according to the Pentagon. Ukraine's forces, meanwhile, have generally been limited to between five and 10 sorties.
Recent Russian flight activity has been centered in the east and south, where Moscow's troops are thought to be planning to launch a large offensive in the hope of capturing Donbas.
The Russian advance in the east has been limited. Its troops have had more success in the south, establishing a land corridor from the annexed Crimea peninsula to the occupied Donbas.
"Russia has concentrated quite a few planes in that area," Andriy Zagorodnyuk, Ukraine's former defense minister, told Newsweek of the eastern front. Anti-aircraft reinforcements would "of course" make a difference to the military balance in the east, Zagorodnyuk said, if Ukraine can procure them in time.
Andriy Ryzhenko, a retired naval captain and former deputy chief of staff in Ukraine's navy, told Newsweek that the Slovakian S-300 will not make a major difference on its own. "But it helps anyway," he said.
Ryzhenko said Russia's air power is Ukraine's biggest problem. "Air attacks are their only dominance," he explained. "It compensates their losing ground," he added, referring to Ukraine's successful counter-attacks across all the Russian axes of invasion.
A Russian victory in the east could turn the war in Putin's favor. Success in Donbas may even give Russia a springboard to again threaten Kyiv and the rest of Ukraine's coastline. Another messy defeat like that inflicted on the Russians outside of Kyiv, would further weaken Putin's position and narrow his options.