A 14-year-old boy visiting from Missouri died Thursday night after falling from a ride at ICON Park in Orlando, Florida, authorities said Friday.
Orange County Sheriff John W. Mina identified the boy during an afternoon news conference as Tire Sampson.
Mina said the investigation is still in its early stages, but no charges have been filed and investigators are trying to determine how the boy fell to his death.
"It appears to be a terrible tragedy," the sheriff said. "Our prayers and thoughts are with the family. We can not imagine what they're going through."
The sheriff's office will determine conclusively if Sampson's death was an accident, according to Mina. The state's Department of Agriculture and Consumer Services is the agency that will oversee if the ride's safety was compromised, he said.
Based on investigators speaking to witnesses on the ride, employees at the park and watching videos circulating of the incident, Mina said there's been no indication anything was wrong prior to Sampson falling to his death.
Deputies responded to the Orlando Free Fall attraction at ICON Park just after 11 pm Thursday after receiving a 911 call, according to the sheriff's office.
"Witnesses on scene reported that someone had fallen from the ride," the agency said.
The teen was taken to Orlando Health Arnold Palmer Hospital for Children, where he died from his injuries, according to officials.
"Words can not say how we feel," said John Stine, director of sales and marketing for the Slingshot Group of Companies, the owner and operator of the ride. "Our hearts go out to the family of this young man and that's all we can say at this time."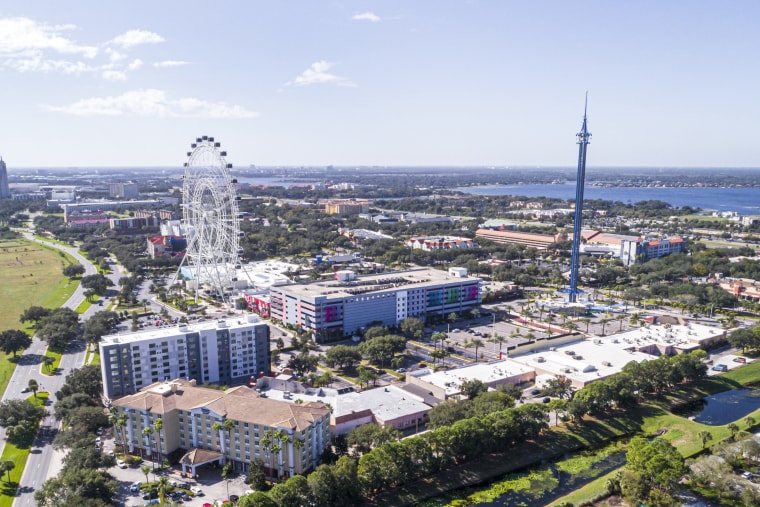 According to ICON Park's website, the Orlando Free Fall ride, a free-standing drop tower, is meant to stand at 430 feet and can carry up to 30 riders.
"We operate the ride with all the safety precaution in mind," Stine said, adding the boy was secured in a safety harness at the time of incident.
The ride, which is currently closed, "will open when there's appropriate time," he said.
The park did not respond to a request for comment from NBC News.