Russian state TV, struggling to convince citizens to support the invasion of Ukraine, continues to air clips of Fox News' Tucker Carlson, portraying the television host as having the authority to wield a major influence on America's opinion of the war.
Carlson is painted as America's voice of reason to Russian television audiences, siding with Russia and having the authority to wield a major influence on America's opinion of the invasion. RT is a Russian state-controlled international television network that has used Tucker's clips as propaganda to distort or deny Russia's invasion of Ukraine.
"Carlson has the most popular cable TV show in the US and his opinions influence how Americans vote," RT wrote in an article.
Last month, a monologue of Carlson aired on RT in which he questioned why Americans should dislike Putin.
Putin's handlers are hoping Carlson's message sinks in, since Russian support for his war has dropped from a high of 71 percent to about 58 percent, according to state-controlled polls FOM and WCIOM.
Half of respondents age 18 to 44 gave a negative assessment of the invasion, according to a poll conducted by Russian Field.
Carlson, along with frequent guest retired Colonel Douglas Macgregor, has been featured multiple times on Kremlin TV in an attempt to justify the invasion of Ukraine to viewers who have gradually turned their support away from Russian President Vladimir Putin.
"Democrats in Washington have told you you have a patriotic duty to hate Vladimir Putin," Carlson said during the speech. "Anything less than hatred of Putin is treason … hating Putin has become the central purpose of America's foreign policy."
RT used Carlson's clip to rationalize that someone who allegedly has so much influence on America must be right in his opinion that President Biden is pushing hate toward Putin.
"There are no actual reasons for Americans to hate Putin, even if the left-wing media tells them that," RT said in response to Carlson's statement.
MeidasTouch, a political news site self-described as producing "the best pro-democracy political videos and content," interviewed Ukrainian diplomat Olexander Scherba Friday night, asking his opinion of Carlson being aired on Russian TV.
"They've been broadcasting Russian talking points, lies and disinformation," the interviewer said. "What would you say to them and the companies that allow them to broadcast their messages?"
"Shame on you," Scherba said. "Shame on you Tucker Carlson. I mean, when you say, 'Why should we support Ukraine and not Russia,' just — what's wrong with your moral compass? What's wrong with your soul?"
"There is something seriously wrong with this guy," Scherba continued. "There is something seriously wrong with Fox News if they give him the air [time]. "
RT backed its claim of Carlson's authority, citing MSNBC: "Earlier this week, pro-Democratic Party channel MSNBC ran a segment that lamented Carlson's impact on US foreign policy through its ability to whip up isolationist sentiments in the voter base – 'the way he can change the tide for otherwise-fascist leaders, 'as host Alex Wagner put it, referring to Putin and to Hungarian Prime Minister Viktor Orban. "
Russian TV is now allegedly playing clips of Carlson "to lighten the mood in the studio, [one] host resorted to one of the favorite pastimes of many Kremlin propagandists: playing yet another Fox News clip of Tucker Carlson, "The Daily Beast reports.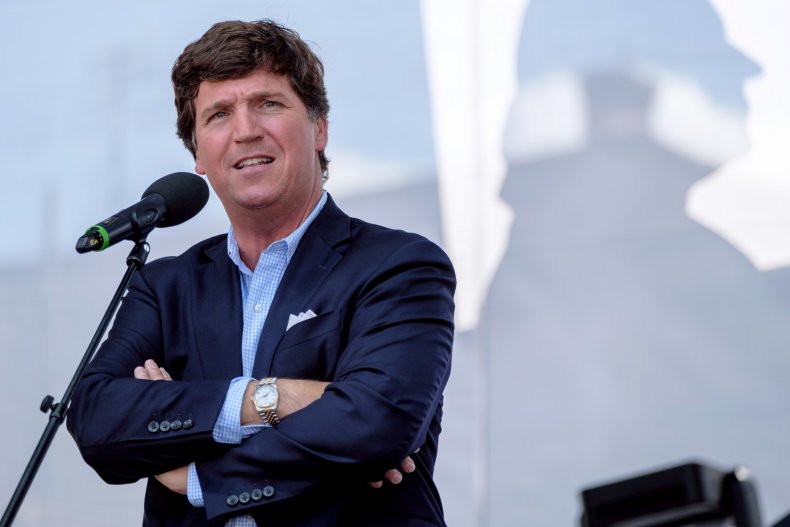 In a translated video RT aired on Wednesday, Carlson's guest Macgregor predicted Russia's victory over Ukraine.
The host, Vladimir Soloviev, responded to the clip saying, "He's a lot more optimistic than my previous experts in the studio."
Russian TV continues to air Fox News segments to combat anti-Russian comments previously said on the show, using clips from the US network to push pro-Russian propaganda among Moscow viewers in an attempt to display Americans as approving of Putin's aggression toward Ukraine.
Newsweek reached out Fox News for comment.