Apple is planning to replace the notch in some of the iPhone 14 models that are launching this year, with the iPhone 14 Pro and 14 Pro Max set to gain a design that features a pill-shaped cutout that will house the Face ID elements and a second hole for the selfie camera.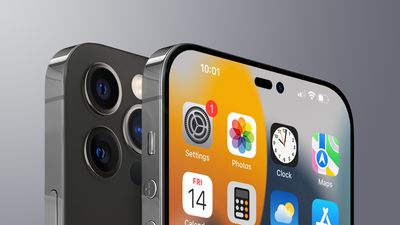 We've heard this rumor multiple times before, but display analyst Ross Young today reiterated his expectations for the iPhone 14‌ lineup and provided some color on what's coming in the future.
The pill-shaped ‌Face ID‌ cutout + camera cutout combination is going to be about the same width as the notch, according to Young, but it will "certainly save some pixels above the holes."
After implementing the new design in the 14iPhone 14 Pro‌ models, Young believes that Apple will expand it to the entire iPhone 15 lineup in 2023, bringing the updated look to even the lower-cost ‌iPhone‌ 15 options.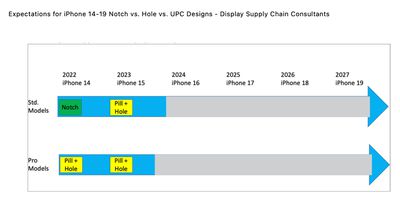 Young says that there's a chance the pill and holes could get smaller in 2023 than they are in 2022, freeing up more display space. Citing leaks on Chinese social network Weibo, Young speculates that the camera cutout in the ‌iPhone 14‌ could measure in at 5.631mm, which leaves room to shrink it down next year.
Apple does have plans to eventually replace ‌Face ID‌ with under panel ‌Face ID‌ that would not necessitate a pill-shaped cutout for the hardware, but this technology is not expected to be ready for the 2023 ‌iPhone‌ launch.
However, we have heard from a few sources that under panel Face ID will not likely meet the timing for 2023 mass production. Part of this could potentially be related to coordination between the display and sensor teams. Of course, at least two of their suppliers would also have to be qualified to produce it in mass production. Companies we talked to did not expect it to launch in 2023.
Young also has information about the ‌iPhone‌ display roadmap from 2024 to 2027, but it requires a subscription to DSCC Weekly Review, Young's publication that is aimed at those who follow display-related stocks and is thus quite pricey.
Related Stories
Rumored iPhone 14 Pro Feature Delayed Until Next Year
Apple's long-rumored under-display Face ID technology will not be coming to the iPhone 14 Pro, according to recent reports. Based on the latest rumors, it now looks unlikely that the 6.1-inch iPhone 14 Pro and 6.7-inch iPhone 14 Pro Max will feature Face ID technology under the display as several reports claimed over the past year. Display industry consultant Ross Young, who often reveals …
Face ID Under the Display Returns to Being an iPhone 15 Pro Rumor
Based on the latest rumors, it is now looking unlikely that iPhone 14 Pro models will have Face ID under the display as initially claimed. Earlier today, display industry consultant Ross Young claimed that iPhone 14 Pro models will feature both hole-punch and pill-shaped cutouts near the top of the display. Young believes the hole will be for the Face ID dot projector, while the pill-shaped …
Display Analyst Concurs That iPhone 14 Pro Models Likely to Feature Under-Display Face ID
We're still a week away from the launch of the iPhone 13, but rumors about the next-generation iPhone 14 models are already circulating and have picked up this week. We've been hearing about a no-notch hole-punch display design since March, which was reiterated this morning by leaker Jon Prosser. Apple is expected to ditch the notch in favor of a hole-punch camera, and to facilitate that …
Technology to Embed Face ID into MacBook Displays 'Doesn't Exist,' says Gurman
Apple's first Mac with Face ID is unlikely to be a MacBook because the technology necessary to embed the authentication hardware into a thin notebook display still does not exist, according to well-connected Bloomberg journalist Mark Gurman. Gurman's latest thoughts on the subject appeared in the Q&A section of his latest "Power On" newsletter. On whether Face ID will ever come to the Mac, …
Leaker Says iPhone 14 Pro to Feature Pill-Shaped Camera Cutout With Face ID Under the Display
iPhone 14 Pro models will feature a pill-shaped camera cutout at the top of the display, with the notch removed, according to tweets shared by leaker @dylandkt, who has proven to be a reliable source of Apple-related rumors over the last year or so. To accommodate this change, the leaker said Face ID hardware will be moved under the display. While it has been widely reported that iPhone 14 …
iPhone 14 Pro Now Rumored to Feature Both Pill-Shaped and Circular Cutouts
Apple is widely expected to remove the notch on iPhone 14 Pro models, but there have been conflicting rumors about the new design. Early rumors suggested that Apple would adopt a hole-punch design with Face ID somehow moved completely under the display, and later it was rumored that there would be a pill-shaped cutout instead. Now, display industry consultant Ross Young has claimed that …
Recapping Rumors About Under-Screen Face ID and Touch ID on Future iPhones
Earlier this week, display industry consultant Ross Young claimed that iPhone 14 Pro models will feature both hole-punch and pill-shaped cutouts that replace the notch. If this design proves to be accurate, it rules out Face ID fully under the display this year. In light of this latest rumor, we have put together a recap of everything that we have heard so far about Face ID and Touch ID on …
Popular Stories
Four Apple Devices You Should Not Buy Right Now – New Models Are Imminent
New Apple products are expected to be announced at the company's "Peek Performance" event on March 8, so prospective customers should now hold off on buying at least four currently-available Apple devices until updated models launch. Based on reports from reliable sources over the past two years, Apple is expected to announce replacements for at least four of its current devices with new …
Evidence of M2 Apple Silicon Chip Spotted Ahead of Apple Event on Tuesday
Evidence that Apple is testing the M2 Apple silicon chip, expected to debut first in a new MacBook Air and refreshed 13-inch MacBook Pro, has been spotted by a developer ahead of Tuesday's "Peek performance" Apple event. As reported by Bloomberg's Mark Gurman in his latest Power On newsletter, a "developer source" has informed him that in recent weeks, Apple has been testing a chip with an …
Top Stories: 'Peek Performance' Apple Event Preview
It's finally time! After several months of quiet, Apple is ready to ramp things up again with its first event of 2022, scheduled for Tuesday, March 8. Unsurprisingly, our top stories for this week are centered around the event, and they include the announcement itself, our overviews of what we should and should not expect to see at the event, and even some last-minute rumors, so read on for …
Last-Minute 5G iPhone SE Details Leaked By Reliable Analyst Ming-Chi Kuo
Renowned Apple analyst Ming-Chi Kuo has shared six "predictions" for the third-generation iPhone SE, providing several new insights into details about the device. Repeating information from previous rumors, Kuo claims that the third-generation iPhone SE will feature the same design as the current model, the A15 Bionic chip, and 5G connectivity, but there are several new details. Some …
Apple Developing 'Mac Studio,' Described as a Mac Mini and Mac Pro Hybrid
Apple is working on a "Mac Studio" device that seems to be a cross between a Mac Pro and a Mac mini, according to a report from 9to5Mac that cites an unspecified source with knowledge of Apple's plans. The device is "in addition" to the rumored Mac mini and Mac Pro, but primarily based on the Mac mini. It will feature "much more powerful hardware" and there are two versions in development ….
Alleged 'Mac Studio' Renders Surface Ahead of Tomorrow's 'Peek Performance' Apple Event
Renders alleged to be the "Mac Studio," described as a hybrid between a Mac Pro and Mac mini, have surfaced online just a day before Apple holds its "Peek Performance" event, where at least one new Mac is expected to be announced. The renders were shared by YouTuber Luke Miani, and shows a design similar to the Mac mini, with a very similar footprint but approximately four-inches tall …
Cheaper 27-Inch 'Studio Display' Reportedly Coming at Tomorrow's Apple Event
Apple's long-awaited consumer-level display, reportedly set to be called the "Studio Display," will launch tomorrow during Apple's "Peek Performance" event, according to a new rumor from YouTuber Luke Miani. In a video showcasing renders alleged to be the upcoming "Mac Studio," Miani also shares renders of the "Studio Display." According to the YouTuber who has an unverified track record …
Camera Comparison: Samsung's Galaxy S22 Ultra vs. Apple's iPhone 13 Pro Max
Samsung in February introduced its latest high-end flagship smartphone, the Galaxy S22 Ultra. We picked up one of the new Samsung devices, and thought we'd compare it to Apple's top-of-the-line smartphone, the iPhone 13 Pro Max, to see how the two premium phones compare to one another when it comes to camera quality. Subscribe to the MacRumors YouTube channel for more videos. The Galaxy S22 …