US Secretary of State Antony Blinken spoke earlier by phone with Chinese foreign minister Wang Yiwho said Beijing opposes any moves that "add fuel to the flames" in Ukraineaccording to the Chinese Foreign Ministry and as reported by the Associated Press.
Yi said the "evolution" of the situation in Ukraine is "something China does not want to see," adding that the Ukraine crisis should be solved through "dialogue and negotiation" and called on the United States, NATO, and the European Union to engage in "equal dialogue" with Russia. He said they should "pay attention to the negative impact of NATO's continuous eastward expansion on Russia's security."
"China supports all efforts conducive to de-escalation and political settlement of the situation, while opposing any moves which are adverse to promoting a diplomatic solution and adding fuel to the flames," Wang said.
With international outrage and sanctions mounting against Russia, Beijing is scrambling to avoid being tainted by association with Moscow while also maintaining their increasingly close ties.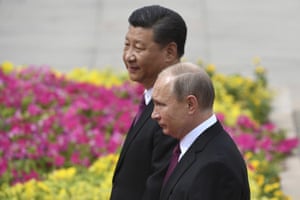 Once Cold War rivals, China and Russia have moved increasingly closer since Xi Jinping took power nearly a decade ago, driven by their shared desire to confront US power.
According to Agence France-Presse, China seems to have been "caught flat-footed" by Russia's military offensive, fierce Ukrainian resistance, and the volume of the resulting international anti-Kremlin backlash.
The situation has effectively paralyzed China, according to Richard Ghiasy, an expert at the Hague Center for Strategic Studies.
"Security interests virtually always trump economic interests" in China's calculus, and it will not fundamentally shift toward a more pro-Ukraine stance, he told AFP.
Russia is "a giant, nuclear-armed and resource-rich neighbor" that China will not risk agitating, Ghiasy said.
Beijing, which has long demanded respect for territorial integrity in border disputes with its own neighbors, has been forced into rhetorical contortions on Ukraine to avoid upsetting Russia.
While maintaining lip service to national sovereignty, China has insisted that Moscow's security concerns regarding Ukraine and the broader expansion of the US-led North Atlantic Treaty Organization (NATO) are valid.